Description
Round hay bales come in all different sizes. When the "one-size-fits-most" hay rings on the market will not serve your purposes, take a look at our adjustable hay rings. Our 7′ adjustable hay ring can easily be adjusted to a diameter of 5′, 6′, or 7′ by either adding or removing plastic sections. Compared to metal hay rings, our plastic hay rings are safer for your horses and small animals. Metal hay rings have protruding metal framework that your animals could get caught or hurt on. Metal hay rings also may rust, corrode, and bend leaving sharp, exposed edges that could potentially cut you or your farm animals and lead to costly medical or veterinarian bills. Avoid these costly situations by buying AGI'S plastic hay rings. They will not rust or corrode. They feature smooth, round edges with no protruding metal framework.
They are made out of 100% post-consumer high density polyethylene plastic. Our adjustable hay rings are available in two separate heights. The 24″ tall adjustable hay ring is ideal for your smaller animals such as goats, alpacas, and llamas, while the 32″ tall adjustable hay ring is more suitable for your larger animals like horses. Contact us today for more information!
32″ Feeder
With so many tasks to accomplish on a busy farm, every bit of assistance is welcome.  AGI 32" adjustable hay feeders is something that makes things easier for you and we would love for you to add them to your list of farm helpers. People often start looking at AGI for a variety of reasons.  When someone begins the search for a safe alternative to metal hay rings, AGI pops up.
For good reasons, if your horse has been injured on sharp metal parts, you know why the plastic advantage is attractive.  This versatile hay ring keeps your horse safe from injury while helping save hay in a very real way.  With plastic feeders you do not have to contend with rusted and, often, broken metal. The fully-enclosed AGI panel means horses don't kick through and they aren't as likely to become entangled in the feeder.
Statistics show that many women hold the primary responsibility of caring for the horse(s).  Ease of use, especially for the height challenged, means you can flip the 100 lb. hay ring on its side and roll it across the pasture with minimal effort.  Once across the pasture, the hay ring can be tossed over the bale without someone else needing to lend a hand. We have been asked for years about nets and, although we do not sell them, we know some people like using them.  We are aware that a number of net manufacturers like to pair their net with our rings.Hay savings is not a small consideration given the current and continuing market price of hay. By keeping the hay clean and minimizing the natural tromping from a horse in close contact, you save money. Thus, in a relatively short amount of time, the rings pay for themselves.
In our closed loop, recycled plastic utilized in the construction of the feeder you can be assured that you are also being environmentally conscious. Because it's plastic, a special additive is part of the manufacturing process to protect against brittleness and breakage for extra cold temperatures.  These feeders are consistently performing in areas recording well below freezing for extended periods of time and faring well.
If you struggle because your hay bale size continually changes, AGI's adjustable hay ring can be the solution.  Add a panel to move it from a 6' to 7' diameter or it is easy to remove a panel to accommodate your next season's need.
24″ Feeder
24" If your farm is more consistently feeding donkeys or mini's, the 24" adjustable hay ring is just the solution you needed but didn't know to ask.  It has the same versatility of adding or removing a panel to get it from the 5', 6' or 7' diameter depending upon your needs.
Should your farm equipment accidentally create a problem in one of the panels, it is easy to replace just the damaged panel.  The ease of this 1-panel replacement versus purchasing a completely new ring is a much more efficient use of available dollars.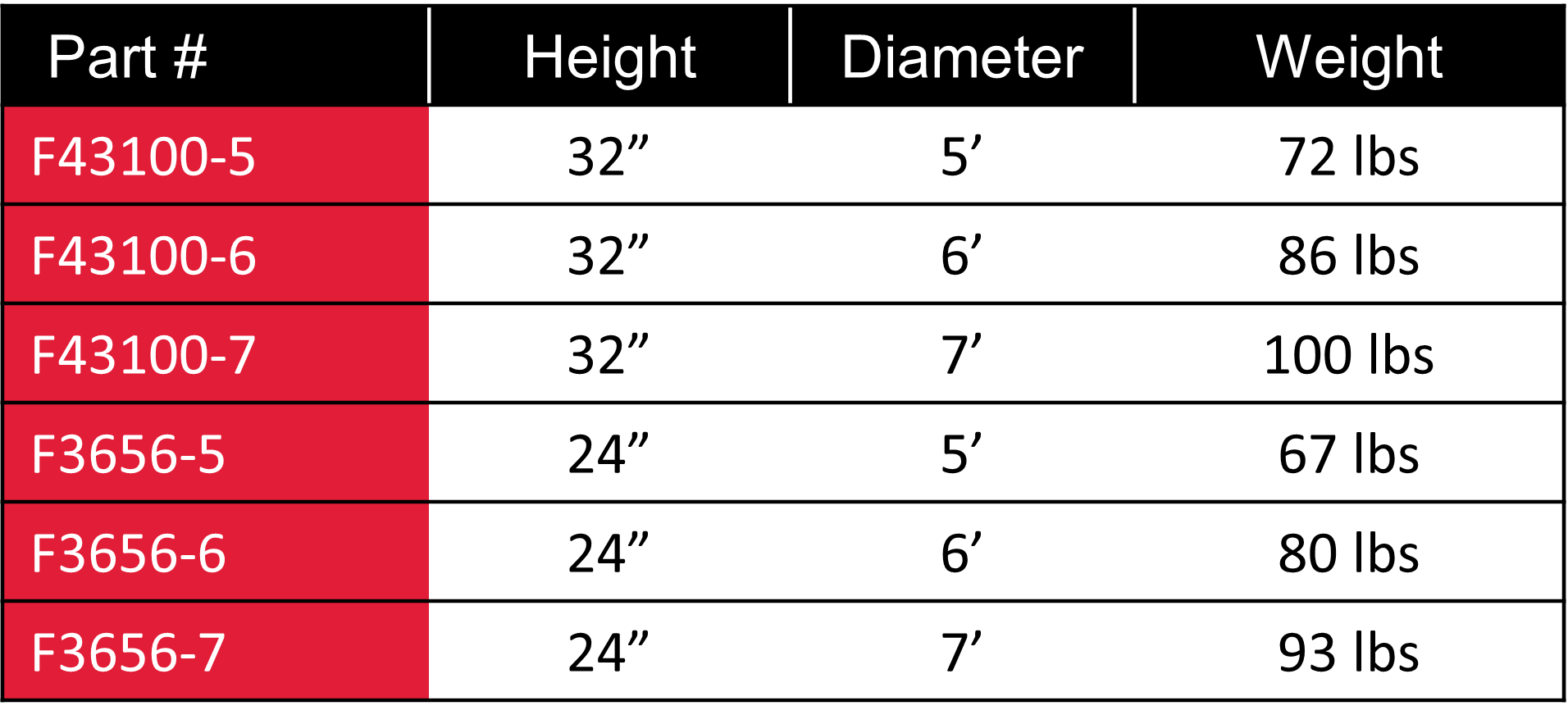 Assembly Instructions (French)